-Sumaiyah Bynum: Lifestyle Editor
Throughout history, manicured fingernails have proven to be a sign of dignity and self-expression. Our fingernails say a lot about who we are, whether they
are designed, acrylic, shaped, or clipped, our nails have historically been a way to express creativity.
Ancient Egyptians used nail art to signify their status in society. Nail extensions and various nail
colors were used to distinguish the noble men from common men. It was discovered that Queen
Nefertiti stayed with a fresh coat of ruby red hues on her fingernails and toenails. This color was
noted to be achieved through the mixture of berries and henna.
In Ancient China, for fingernail polish, women used natural dyes from the petals
of orchids and roses. They would also customarily decorate their nails with the colors of the ruling
dynasty. The colors of gold and silver represented high in social status.
We sat with nail guru and supermom, Najibah Sabir, the owner and CEO of Claws for the
Culture, a luxury press-on nail brand; to tell us about her colorful journey in the nail business.
H&M: Please tell our readers about you.
Najibah: My name is Najibah Sabir, I am the owner and CEO of Claws for the culture, a
married mother of three children whom I homeschool.
What inspired your business, Claws for The Culture?
My business was inspired by my sister Amani. First, she inspired me to figure out what my
dreams were and then to go after them. She is the owner and CEO of two businesses, The Black
Hijabi and Slimthicc Boutique. As she grew in her businesses, she motivated and pushed others
in our family to do the same. One day, my sisters and I were talking about what our interests
were. I remember my fondness for getting my nails done when I was in high school. We realized
that although the black community made up the majority of the clientele in nail salons- there was
a definite lack of Black nail techs and black-owned nail salons. I wanted to fill that void and
create a business that was for and by a black woman. Although I was nervous about going to
school- I enrolled in nail technology school that summer.
Did you set out to be a luxury nail brand? If not, what events or shift happened to bring
your current business alive?
No, I didn't plan on having a luxury press-on nails company. While in school I had planned to
have a mobile nail business – doing manicures, pedicures, and acrylic nail extensions. When I
graduated, I had a few client's and found that it was challenging to have a business without
having a brick and mortar salon. Inviting unknown people into my home or going into unfamiliar
homes was uncomfortable for both me and my family. So, I had to brainstorm – how I could
change my business plan to fit my lifestyle. Around the same time, my 13-year-old Muslim niece
and her friends would buy cheap press on nails for special occasions. They could look cute and
still have the luxury of taking the nails off to pray. I did a little research and found that there was
a niche market for luxury press-ons. I realized that this was something that I could do from the
comfort of my home while taking care of my family.
How do you balance motherhood, being a wife and business owner? What are some of the
challenges and rewards of working for yourself?
I have to say that it is very challenging to balance all the aspects of my life. Slowly, I am finding
ways to set out time for each responsibility. I have always been a planner. So, this comes in
handy when I have press on sets that need to be made, three kids that need to be home schooled,
clientele emails that need to be answered and, a husband and home that needs my attention. My
husband has been an integral part of making all this possible. From the beginning, he has
supported me in going after my dreams of being a business owner.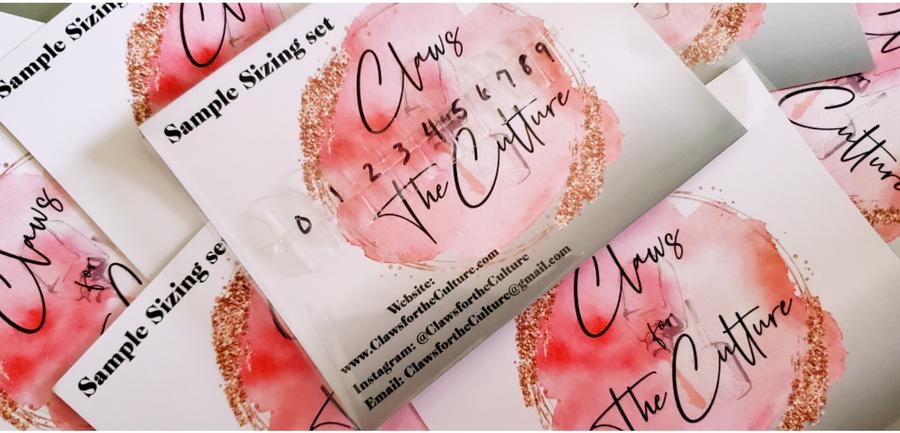 He has stepped in and taken
care of anything that needs to be done at home so that I am able to devote time to my business.
The biggest reward has been the fact that my children now want to be business owners and not
employees. They see me working hard in my business and are eager to come up with nail designs
or help package orders. They have even started coming up with their own business ideas.
How has Covid-19 impacted your business?
Covid-19 has only kicked my business into high gear. Some women- like myself – didn't know
that luxury press-on nails existed. Since the pandemic, most nail salons have shutdown – forcing
people to look for alternative ways to get their nail 'fix'. And here I am, ready to ship luxury
nails to their door.
What are some of your favorite designs and what inspired them?
I am more of a 'basic nails' type of gal but my customer favorites would have to be "Bih' Yes".
This set is a mixture of tan, gold, and silver nails with a bling accent. This set was inspired by a
request from my first customer – then I upgraded it with a more 'over the top' bling nail. Our
second-best seller is "Mindin' My Business". This set is black with gold foil accents. I love
how versatile these are – can be worn for a girl's night out or just a casual workday. And last but
not least, our customers love our "Basics" sets- which consist of solid color press-ons for $15
each. These are prefect for mixing and matching – to create your own style.
Why are press-on nails ideal for Muslim women?
Press on nails are ideal for Muslim women because they are removable and reusable. When I
was younger, I loved getting a full set of acrylic nails. Then, I learned that my wudu – (an Islamic
procedure for cleansing parts of the body before prayer) – may be invalid if the water does not
reach my nail. So, I stopped getting my nails done that way. But with press-on nails and the help
of sticky nail tabs- Muslim women can wear press-on's for any occasion and when it is time for
prayer, we can pop them off to make wudu. And they are still wearable another day.
Where can we purchase these amazing press-on nails and what are your social media
handles?
You can place orders on my website www.ClawsfortheCulture.com and you can follow me on Instagram @ClawsfortheCulture and Facebook at Najibah Sabir